There are a number of different metals to choose from and the whole purchase process can end up quite overwhelming. To avoid any further confusion, here is a breakdown of the different metals and their relative pros and cons, which may help you to decide on which metal is the best option for that special someone.
PLATINUM
Being a naturally white metal, platinum is one of the most popular metals for engagement and wedding rings. Due to its strength and durability it can last for generations. However, it is also one of the more expensive metals because of how strong it is, as well as its rarity. It's also extremely dense weighing around 30% more than gold.
Pros:
It's the most durable metal available
It's a great option for those who are working with their hands each day
Long-lasting
Naturally white, will never fade
A hypoallergenic metal
It's a rarer metal than gold
Ideal for stone set rings
Cons:
It's dense so can feel a lot heavier than gold
Will patina after a period of time and look dull
It can be scratched easily
Should only be worn against another platinum ring
YELLOW GOLD
Yellow gold is a common option for wedding and engagement rings. It's important to remember however, that rings made of higher karat value will be too soft for use as an everyday ring, which is why gold rings are measured in karats. Karats determine the percentage of gold – with other materials mixed with the gold – to form the ring, such as zinc and copper.
PROS:
Yellow gold colouring stays true over time
It's a classic metal choice for this kind of ring
It's a traditional material that has been prized for its beauty and elegance for many centuries.
CONS:
It's not as durable as other materials, such as platinum
Can be too soft if a high karat
Rings made of yellow gold can become thin and worn over time
May not be hypoallergenic for some wearers.
Gold colour is all about taste and liking. If you already have white gold jewellery, white gold might be the best option and the best for your skin tone.
WHITE GOLD
In the same way that yellow gold rings aren't made of 100% yellow gold, the same is the case for white gold rings. White gold is a beautiful metal with a silver finish that is mixed with materials such as silver and palladium to achieve its colour. One aspect of white gold is that it will yellow over time, meaning it needs some general maintenance every so often. Getting the ring rhodium plated every 6 to 12 months means that it can keep its dazzling white colouring.
PROS:
It's a cheaper material than platinum
Usually a wider range of rings in this material
Stunning white gold colouring can look great amongst diamond jewellery
CONS:
The material is softer, like yellow gold, and is therefore not as durable as some other metals
Will get a yellow colour over time and will need to be rhodium plated every so often
Some people will get allergic reactions to this metal due to the alloys that are used to create this type of gold.
ROSE GOLD
Rose gold is an alloy made of copper and yellow gold, with the redness of the colour determined by the amount of copper present.
PROS:
More durable than yellow or white gold
Doesn't need rhodium plating
Affordable
CONS:
Not considered hypoallergenic due to the copper presence
Not as widely available as other metals
PALLADIUM
Palladium has a low density, making it a lighter weight metal compared to platinum or gold. It is a silvery-white metal that was discovered in 1803, and is considered to be part of the Platinum Group Metals (PGMs). Palladium has the lowest melting point and is the least dense of the PGMs.
PROS:
Stays white forever
Similar in durability to platinum, however is a lot lighter
Less expensive than platinum
Doesn't cause allergies to many wearers
Does not tarnish over time
CONS:
Limited designs in this material
TITANIUM
Titanium is a silver-grey metal that is extremely strong, and is known as the hardest metal in the world. It's also scratch resistant. However, because of how hard it is to work with, there are limited designs and some jewellers simply aren't comfortable working with it for resizing and repair issues.
PROS:
It's a trendy metal
It has a good price range
This metal is extremely hard-wearing
It's hypoallergenic
CONS:
Not a traditional material used for wedding and engagement rings
Cannot usually be resized or repaired easily
Range of designs are fairly limited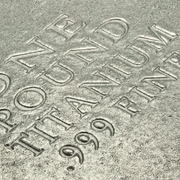 TUNGSTEN
Tungsten is a contemporary metal that looks sleek and is often reasonably priced. Tungsten is also a highly durable material and is relatively rare. Although it does hold these benefits, it's a material that cannot be resized and is highly difficult to cut off your finger in an emergency situation. In fact, it also has the capability to conduct heat and electricity, which could cause safety risks for some wearers.
PROS:
Interesting material with a very different colour compared to other materials
It's hard-wearing
It doesn't lose its shine over time
CONS:
Once broken, it cannot be repaired and you will need a whole new ring
Very difficult to cut off in an emergency situation
It's one of the heaviest metals used for rings and jewellery
Not a traditional metal used for wedding and engagement rings
SILVER
Silver is a white-silver coloured material that is found readily and easily in many jewellers. Like other metals, silver is mixed with other materials such as copper, which can make it tarnish over time.
PROS:
Many different designs available
Silver is readily available in many jewellers
Can be a great option for those on a tight budget
CONS:
Silver tends to tarnish over time due to its mixture with copper
It's a relatively soft material and can be become misshapen and be scratched rather easily
CHOOSING THE PERFECT METAL
When shopping for an engagement ring, it's always important to think about the aspects that mean a lot to you and your partner as well as your budget. If getting a ring rhodium plated every 6 to 12 months seems like too much of a hassle, you may want to avoid white gold as an option. If your partner has a rather hands on occupation such as a nurse or teacher, a less durable material like silver may not be the best choice.
A ring for engagement purposes is always going to be a special purchase. Purchasing one that is right for your partner may seem like a difficult task, but with the right knowledge, you'll be able to find the perfect ring in no time.
browse our engagement rings